Camp Kanata is a classic summer camp for kids and teens ages 6 - 17. Our overnight, day and leadership camps provide safe and fun experiences grounded in the natural world.
Programs
At Camp Kanata we have one-week overnight and day camp sessions throughout the summer and multi-week leadership camp sessions for older campers. In the fall and spring, we open our gates to families and campers for weekend family camps and specialty programs.
Our Traditions
Every summer overnight camp has unique traditions. Camp Kanata campers cheer in the dining hall, wake up Gertrude after Chapel, eat family style with our friends and sing the Kanata Magic Song as we walk to Closing Campfire.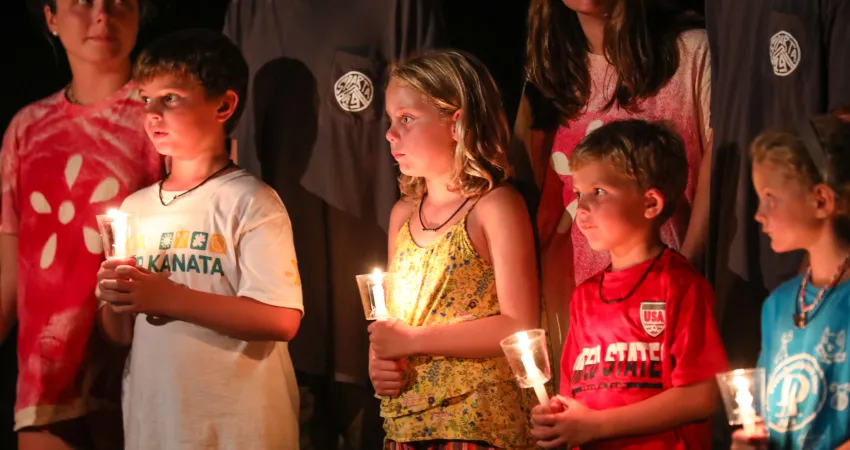 Activities
Camp Kanata is full of activities like racing down our double water slide, or paddling a kayak on the lake, or casting a line. Campers can climb the Climbing Wall, play ultimate frisbee or take a hike with friends and counselors.
Camp Kanata helps youth, teens and young people become the best version of themselves. We are an inclusive and welcoming place dedicated to serving families and campers from diverse cultures, races, backgrounds, faiths, gender identities and perspectives. We are also experts with a 69-year history of meeting the needs of individual campers and our overall and collective Camp community.
Camp Kanata is a branch of the YMCA of the Triangle. The YMCA's Mission is to put Christian principles into practice through programs that build healthy spirit, mind and body for all. To learn more about the YMCA of the Triangle and our Mission and Purpose, please visit our website.